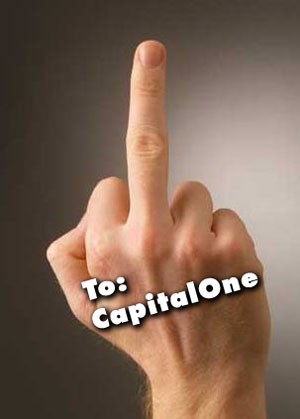 Rants
5 Comments - Add A Comment


I recently stopped using my CapitalOne card because every time I try to call them, or log into their web site to manage my account, its a big pain in the ass. 'No Hassle' guess again. So I stopped using it.

Back in spring, I had bought a new waterbed on the card at Jordan's Furniture. Fast forward to October and the Red Sox win the world series, and I have $770 coming my way. Unfortunately, the way they are refunding your money (the contest was buy furniture during a certain time frame and if the Red Sox win the world series, you get it for free), if you bought on a credit card, the money is refunded back to that card.

So they do and I have a $770 credit on my card. So I call up CapitalOne and told them I want to cancel my account and have my money sent out to me. They asked why, I probably told them that the card gives me zero rewards, which is another reason to get rid of it.

So a few weeks after that, I'm sitting around thing where the F is my money? It's been a while and its Christmas time, I need that cash. I call them up and I get a recording:
- A request has been made to close my account (yeah no shit)
– My account won't be closed until I stop using it for one full month after I made the request.
– The money they owe me won't be mailed out till at least 10 days AFTER that.
- Then the recording tells me to hang up and doesn't even let me talk to a human.


Can you believe this shit? So I've already gotten two blank statements from them. And I'm still waiting and waiting.

AVOID CAPITAL ONE. Out of all the credit cards I've had (Discover, American Express Open, Fidelity Visa, GM Mastercard) no card has busted my balls more than the CapitalOne card. And the card doesn't even give me rewards for my troubles. And now they steal $770 from me. One of these days I'm going to have to spend hours calling number after number, lying about my account, and say I want to sign up for a new card, just so I can get to a person to fight with. This is what 'No Hassle' means...