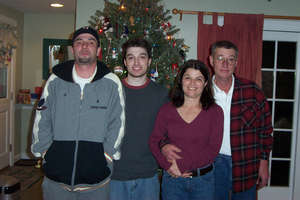 Real Life
1 Comment - Add A Comment
www.lynch-cantillon.com/Obituary?id=1702
Edward F. Masone, 55, of Stoneham passed away unexpectedly Wednesday morning, September 3rd, at Winchester Hospital. He was the beloved husband of Diane M. (Quigley) Masone.
Ed was born in Somerville and raised in Winchester, son of Theresa (Pascucci) Masone of Derry, New Hampshire, and the late Nunzio Masone. He graduated from Winchester High School with the Class of 1971 and attended Northeastern University. He had made his home in Stoneham with his family since his marriage twenty-eight years ago.
Ed worked for various supermarkets throughout the area over the years, and was most recently employed as a department manager for Shaw's in Medford.
He was devoted to his family and enjoyed boating, fishing, and waterskiing at Beaver Lake in Derry New Hampshire. He was also an avid football fan.
Surviving along with his wife Diane and his mother, Theresa Masone of Derry, New Hampshire, are two sons, Eric W. and John F. Masone, both of Stoneham, a brother, John E. Masone and his wife Tricia of Boca Raton, Florida, and a sister Laura R. Masone of Derry, New Hampshire and New York City. Also surviving are many nieces and nephews.
The funeral will be held from the Lynch-Cantillon Funeral Home, 263 Main Street, Woburn, on Saturday, September 6th at 9:15 a.m., followed by a funeral mass in St. Barbara's Church, 138 Cambridge Road, Woburn, at 10. Interment will follow in Calvary Cemetery, Woburn.
Relatives and friends may call at the funeral home on Friday from 4 to 8 p.m.