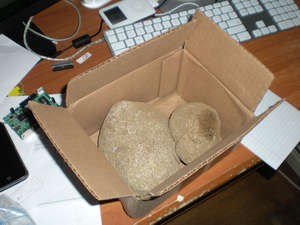 Scamming Scammers
5 Comments - Add A Comment
Yeah so I've been trying to sell my two laptops on Craigslist (cause I don't need three). I sell lots of stuff on craigslist and I get lots of messages from scammers, but nothing like I'm getting with the laptops. Every day they each attract someone trying to rip me off.
So this one guy asked me what "my final price" was. Which is one of the lines the scammer use, I totally don't get it but whatever. Since my listing said $1300, and he was obviously a scammer, I told him $2000 was my final price. He "accepted my terms" and told me he was sending me $2300 to cover shipping and packaging etc. What a deal eh? So he tells me he's sending money through some service. Next thing you know I get an email from this website saying they got his money, so its now OK for me to send him my computer. This lazy son of a bitch didn't even bother to send me a fake money order. What a retard. So I get an email from him with a prepaid fedex label attached. Overnight too. I ONLY HOPE THAT HE PAID FOR THE LABEL OUT OF HIS POCKET and not with some kind of hijacked or stolen fedex account. Because I sent him a box of rocks. But I put apple stickers on the sides of the box so maybe he won't notice there's no MacBook Pro in it.
For what it's worth, the destination of the rocks is:
Charles Roberts
403 Madison Place Parkway
Byron, GA 31008
Of course the name of the person who "bought" my laptop was Akins David. Charles Roberts could be a fake name, or it could be a middle man. Like that poor guy on MSNBC that was shipping things to Africa and didn't even know he was part of a scam.
And hell, while I'm at it, here's the tracking number:
https://www.fedex.com/Tracking?action=track&language=english&cntry_code=us&initial=x&tracknumbers=797102875821
If you're worried about retribution, this guy's probably in africa so a few angry emails is all I'll get. Plus he doesn't know my real name or my address, only my PO BOX. And if I get any mail from Africa, or addressed to the fake name, I'm not even going to open it, i'm just going to refuse it and return it to sender.
This is my new hobby. Sending rocks and things to scammers.
I must give props to the original scammer-scam:
The p-p-p-powerbook
He got his scammer really good, he had to pay hundreds in taxes on the package he got. My scammer only had to pay for overnight shipping on two rocks. And the shipping label was probably bought with a stolen credit card. But theres a chance the scammer bought the label with his own money.